Occupational Therapy Month 2018: Staff Spotlight
April 25, 2018
Specializing in work with children, our occupational therapy team helps families to understand how the child's brain and body work together. When difficulties occur in this brain-body communication, behavioral or emotional challenges can result. The therapist works with the child to improve this relationship between mind and body in order to improve coordination, calm emotions, or improve other symptoms. The therapist also works with the family to learn how to cope with challenges and use strategies at home and school. Some of the therapies used include sensory integration therapy, feeding therapy, play therapy, rehabilitation, and Integrated Listening Systems (ILS). Our team will help you decide what therapy might be the best fit for your child.
MEET JENNIFER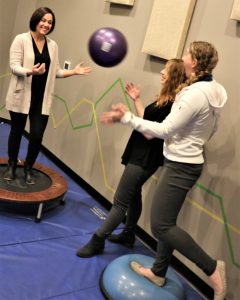 I am Jen Rodriguez. I am a wife, a Labrador mom, a plant enthusiast, a rock collector, a nature admirer, and a life-long learner. I am also Occupational Therapist and a Certified Autism Specialist, and I have found my calling as a pediatric OT. I have grown my experience over the last 8 years in school systems, home settings, the community, and now in the clinic, aiming to assist the child and family system in all environments. I was lead to Occupational Therapy when I realized I could combine my interests in education, health and wellness, human psychology, child development, and the arts. Occupational Therapists also have the ability to work in variety of settings, with diverse populations, and use creative treatment approaches. No two days, or even hours, are the same, because each of my client's goals are tailored to daily activities and occupations that are uniquely valued.
I enjoy working with children, adolescents, and young adults, focusing on client-centered treatment planning and daily living skills. You can often find me practicing tooth brushing in the bathroom, making snacks in the kitchen, having shoe tying races in the hallway, and interacting with peers in games and activities in the gym or outdoors. Whatever is important to my client, I use my Occupational Therapy framework to identify tools and strategies to engage them successfully in that occupation.
My favorite therapeutic activities involve expanding on a client's interests and play themes and using our collective creativity to target their goals through that perspective. This could involve stomping through an obstacle course as a dinosaur, challenging balance on a pirate boat (balance board) to avoid being eaten by sharks, turning lines on a paper into train tracks for the train (scissors) to cross, creating Minecraft or Trolls characters from perler beads, or designing a construction activity to support problem solving and cooperative skills. Occupational Therapy's foundational goal is to be a partner in the therapeutic process, engaging clients in what is individually meaningful them, and using their occupations as their end goal, as well as their treatment.
One of the most fulfilling parts of my job is the opportunity to watch a client's view of themselves change as they move toward independence. My motto in treatment is to replace "I can't" with "I'll try". Meeting clients where they are and understanding the challenges they face builds the therapeutic relationship that will lay a foundation for growth and success. No one enjoys participating in activities that are difficult and it can be even harder to put the spotlight on those struggles in treatment. While designing therapy activities that are fun and motivating is important, I also strive to acknowledge the strength and bravery of clients while they challenge themselves to grow. Seeing the transformation from what clients struggle to do to what they have accomplished is amazing.
Occupational Therapy has allowed me to see the whole person and have a unique lens on the care team. I am happy to be an educator, a coach, an advocate, and a partner for all of my clients and their families. Happy Occupational Therapy Month!
Occupational Therapist at BRAINS, Certified Autism Specialist

Join us in celebrating Occupational Therapy Month! BRAINS will be raising awareness for the profession all month long. Follow us at brainspotential.com and facebook.com/brainspotential for articles and resources on areas of occupational therapy and reasons why it's the right treatment for you! Get to know the clinicians in BRAINS Occupational Therapy Department and their unique areas of interests and expertise.