Meet Colton! April is Occupational Therapy Month and we are excited to spotlight a "Client of the Week" during the month of April. Colton struggled since infancy with several health issues, trouble sleeping, pediatric anxiety, and emotional and sensory issues. Earlier this year, Colton's family found out he had not one, but two autoimmune diseases that were causing the physical symptoms that had caused so much discomfort in his life. With no definitive answer on how to help Colton, his family watched as he seemed to plateau in speech therapy and struggled to help with his anxiety. While he was excelling in school academically, he was struggling daily with how to emotionally handle his diagnosis of autoimmune disease and the symptoms that came with that, as well as the changes to his daily routine that made him "different" from the other kids.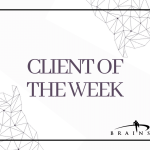 Colton's family got more answers when they pursued an assessment at BRAINS with Dr. Michael Wolff who referred them into Occupational Therapy with Sean Crowell, MS, OTR/L and behavioral counseling with Bradley Bridges, LMSW who began working with Colton to help him manage his anxiety, emotions and sensory issues. "In the small amount of time we have spent there, we have already learned so much about ways to help our son. For example, learning from Dr. Wolff about the connection between speech apraxia and fine motor skills and coordination was like finding a missing piece to the puzzle. We are continuously learning how to better relate to our son thanks to BRAINS."
"We finally feel hope. We absolutely feel like we are in the right place and feel like we finally have answers to Colton's struggles. Everyone that we have come in contact with has been so kind and caring, easy to work with, and show that they genuinely want to help Colton. Colton had an immediate connection with Sean, which is not easy for him to do. He looks forward to every visit! Sean is so good with Colton, he listens, cares, communicates well, is so knowledgeable and patient, and makes it easy for Colton to understand directions. We are so thankful."
To learn more about occupational therapy at BRAINS, visit our website. We'd love to hear from you, contact us at 616-365-8920 or by email at [email protected].