Free Parent Support Group-Facebook Live
April 6, 2020
You're invited! Tune in to our Facebook Page this Thursday at 6:00 PM for a free LIVE parent support group with two of our behavioral therapists who are ready to help you and your family cope with and understand the changes that the COVID-19 pandemic has created. Dr. Wolff, BRAINS co-owner and Neuropsychologist, will be standing by to engage with you during the live event and answer any questions you may have.
This live event will be an open forum support group and could include topics such as:
-How to set a daily routine and structure for your week
-Things to do at home
-Ideas to help families explain and process the impact of the stay home, stay safe executive order
-How to remain social while physically distancing
Please Like us and Follow us on Facebook prior to Thursday's live event to ensure you don't miss out on this free resource and other tips and tools to get you through this challenging time.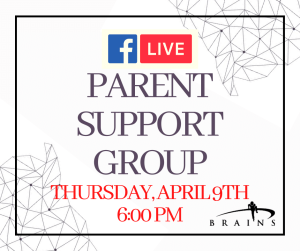 Christopher Roberts, LMSW is a licensed clinical Social Worker at BRAINS who prides himself on being passionate and authentic with the services he provides. Chris has been helping children and adults for the past 12 years by providing a unique blend of humor, genuineness, and empathy to support people in overcoming obstacles. Chris' areas of practice include, but are not limited to: sexual and physical abuse, neglect, other types of trauma, anxiety, depression, behavioral issues, school issues, family conflict, anger management, school Issues, self-harming, suicidal ideation and specializes in services such as Trauma-Focused Cognitive Behavioral Therapy (TF-CBT) and Play Therapy techniques. Learn more about Chris here.
Lindsey Farlow, LLMSW is a limited licensed Social Worker who has experience with various populations and challenges. She specializes in relationship building in regards to family, couple/marital, and sibling bonds. Lindsey utilizes individual and group training interventions in order for families to implement positive behavioral techniques for challenging behaviors and obtain psychoeducation of various diagnoses and interventions. Lindsey is trained in evidence-based treatments including CBT, DBT, Positive Family Interventions, Zones of Regulation, Motivational Interviewing, TF-CBT, Empowerment Theory, Crisis and Suicide Preventions. Learn more about Lindsey here.
Dr. Michael Wolff, Psy.D., ABPDN is a neuropsychologist and co-owner of BRAINS. Dr. Wolff specializes in autism spectrum disorders, ADHD, forensic evaluations, medically complex cases, and other neurodevelopmental and genetic disorders. He has awards for his contributions to the field of psychology and has a history of committee participation through the National Academy of Neuropsychology, the American Psychological Association as a graduate student, and is a Professional Advisor for the Epilepsy Association of Michigan and on the Board of Directors for the Down Syndrome Association of West Michigan. Learn more about Dr. Wolff here.